Ranch Riding Tuscany is the riding centre of Belmonte Vacanze Farm Holidays in Montaione just a few kilometres from both, San Gimignano and Volterra. The riding centre is managed by Alice, who has grown up to be a talented professional thanks to her love for horses and children, and her dedication to the profession and to the staff she manages. Here at Ranch Riding Tuscany the riding centre is surrounded by some 200 hectares of unspoilt Tuscan countryside where enjoy horse-back riding and trekking along the spectacular bridleways that criss-cross the fields of golden wheat around San Giminiano, and the picture-perfect vineyards and olive groves.
Here our horses are treated like family members: come and meet them and find out which best suits your riding style, or even, ride a different horse each day. Of course, our four-legged family members are important to us: we will be happy to please you in any way provided you respect the nature and welfare of the horses.
Riding Tuscany - The team
Ranch Riding Tuscany riding centre of Belmonte Vacanze Farm Holidays is nestled in the beautiful Tuscan hills around San Gimignano and Volterra. The riding centre is surrounded by some 200 hectares of countryside where you can enjoy horse riding on your own, or with us joining in on a horse trekking excursion.
We provide horse riding lessons, hippotherapy, livery and training.
The centre boasts:
The stables with 8, 3×3 m indoor boxes
4 outdoor covered boxes, 4×4 m in size
A saddlery
A10-meter round yard
Different sized paddocks
A10 x 20 m. irrigated sand paddock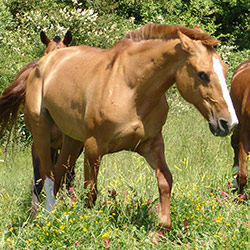 Lola
Breed: criollo
She is the dear good soul of the family. Lola was saved by Filippo in 2010. She was about to end up in the slaughterhouse because no longer appreciated by her former owner. She still bears the signs of maltreatment on her snout and has lost sight from one eye, but is always gentle and kind with everyone. She is a good ride, suitable for both adults and children; even little 4-year olds. Bring her apples and carrots, just wait and see!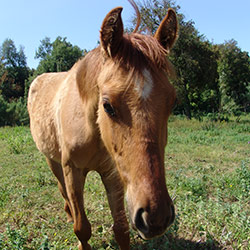 King
Breed: Half-breed Criollo
He is Lola's son and luckily he shares his mother's good nature and ability to learn things quickly. He is always happy to receive fruit or sweets. In a couple of years he will be ready for you to ride him.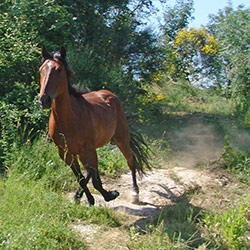 Melody
Breed: Quarter Horse
Young and agile, she is the perfect ride for beginners and is very good with expert riders, responding to their aids with great sensitivity. You will always spot her spout sticking out of the box, waiting eagerly for you to give her some goodies.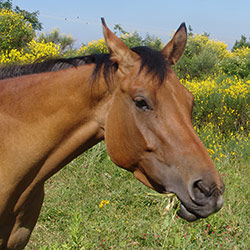 Dani
Breed: Quarter Horse
Despite her young age, she is reliable and good-natured. You cannot but fall in love with her soft snout always poking at your pockets seeking for biscuits. Trained for reining, she is perfect for expert riders.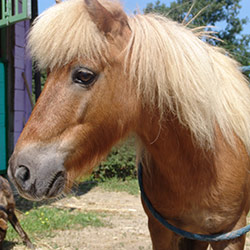 Jonny
Breed: Shetland
He is the little one of the stable, but only in terms of height! Jonny is a pleasure for the eyes, especially when he and his buddy, King gallop; his long blonde mane flowing in the wind. Try winning him over with sweets, you will have found a true friend.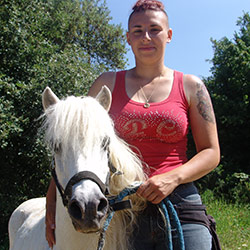 Bibo
Breed: Shetland
Bibo is Prince Charming's horse … in a smaller size. His long mane and snow-white hair alone are good reasons for any child to fall in love with him.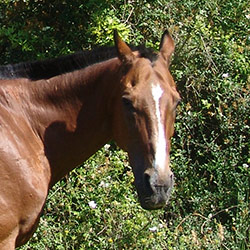 Caramello
Ras: maremmana (halfbloed)
Net als Lola werd Caramello slechts enkele dagen voor de slachting gered. Vanwege de slechte behandeling heeft hij een aantal tanden verloren en leed hij aan nare wonden op zijn onderlip en lichaam, maar nu is hij weer in vorm en weet hij hoe hij elke type ruiter kan vermaken. Goed en geduldig met onervaren ruiters, wendbaar en flexibel met diegene die weet de dingen op de juiste manier te vragen. Altijd een beetje verlegen, goed te veroveren met een aantal koekjes… die zal hij nooit weigeren!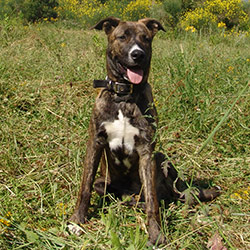 Cindy
Ras: Amstaff
De kleinste van het huis. Ze rent altijd mee met Alice waar ze ook gaat en staat altijd klaar om de klanten te begroeten.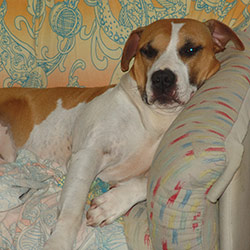 Tornado
Breed: Criollo
He is a sturdy horse, with great strength and resistance. He is very nice and sweet with beginners, and never disappoints the expectations of the expert riders.
Scila
Breed: Criollo
She is a beautiful petite horse, a perfect ride and leisure activity mate for the children, Manageable and sweet natured, she loves receiving gifts, especially the ones she can eat!