Treat your children to a horse riding experience in Tuscany they will never forget
Children who learn about horses and horse care grow into happier adults; adults that are considerate and respectful of the planet and its animals. It is for this reason, if for no other, that it is worth choosing a horse riding holiday for your kids here at the
Ranch Riding Tuscany riding centre of Belmonte Vacanze Farm Holidays
.
Ours is the only farm holiday agritourism in Montaione that can also boast a horse riding centre: Alice, our young talented professional instructor organises horse-riding activities and fun for the little ones all year round. Pony-back riding fun and birthday parties, English and Western style horse riding lessons, and even hippotherapy.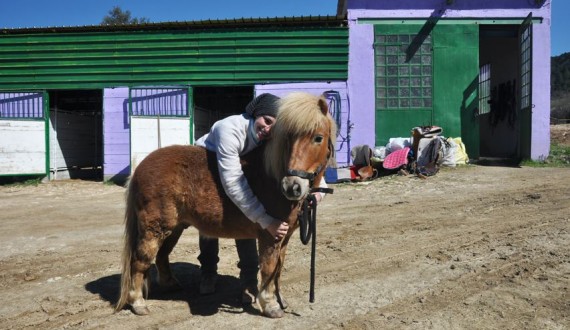 Enjoy pony-back riding
for your birthday or on any other day!
Ponies don't only appear in fairytales… indeed our farm holiday agritourism is the only one in Montaione to boast a horse riding centre where there are also some very friendly ponies. Your kids can enjoy their first horse-riding experience or have a special Pony Party organised for them, a dream birthday surprise with real ponies!
First ``leg up``
The first "leg up", which is the first time up in the saddle, is a magical moment for any rider. An experience your children will never forget. They can choose to experience their first leg up either on a horse or a pony. A qualified instructor on foot leads the small 20-minute ride.
Note: this particular experience is reserved for children aged between 3 and 5. Of course if the little one is scared or uncomfortable, the ride will immediately be interrupted. We believe your children and our horses should feel relaxed and have fun to fully enjoy the experience. The first leg up must be a great and memorable moment for everyone!
Horse riding birthday parties for children
Cowboys and Indians Camp Party
Definitely a fun packed unique way to celebrate your kid's birthday: the party starts at around 5 o'clock in the afternoon when the children arrive at the ranch. They tend to the ponies, play gymkhana games, experience pony-back riding and as the evening falls…pitch up cowboy tents and tepees! The evening is spent sitting around the campfire eating delicious hotdogs and other cowboy specialities,   playing games and gazing up at the stars … then finally all
First time horse riding lessons for children
At the Ranch Riding Tuscany riding centre your kids can experience their first horse riding lessons. Each lesson lasts 60 minutes and is divided into two moments.
The first 30 minutes are dedicated to the important job of brushing the horse, and to preparing the saddle and riding tack; an essential experience for the children to get comfortable around horses; then leg up into the saddle and enjoy the horse-riding activities.
For children aged between 4 and 6 years old.
Pony Camp and Summer Camp
Pony Camps all year round
Treat your children to a fun-packed horse riding week-long camp. A whole week of horse related activities and outdoor games. Choose between morning and whole day camps. Pony Camps can be organised all year round for a minimum of 4 children.
Pony Summer Camp
Would you like your children to experience a different holiday? Enrol them in our Pony Summer Camp: a whole week, from Monday to Friday, from 9am to 6.30pm at the Ranch Riding Tuscany riding centre with our professional staff. Every morning the children help out in the stables, cleaning and brushing the horses. After lunch, they learn about tending to the horses
Your children can help us safeguard and protect endangered horses
The Ranch Riding Tuscany riding centre of the Belmonte Vacanze farm holidays in Montaione is the only equestrian centre committed to
protecting and safeguarding endangered horses
.
Through our Ranch Angel initiatives, followed by adults, teenagers and children between 6 and 12 years old, we manage to protect the old horses from ending up in the slaughterhouse.
Every Saturday morning from the 9am to noon you can come and join us to feed the horses, muck out the stables, brush and walk the horses.
A small monthly membership fee or a one-time fee is required in order to participate in the initiative. The money we collect is used to help save the horses from the slaughterhouse and guarantee the best living conditions possible.
Hippotherapy and Rihabilitation with Horses in Tuscany
Although still too little known, trauma rehabilitation with horses and hippotherapy are disciplines that are internationally recognised as valid aids to help children of all the ages suffering from psychiatric and neuromotor pathologies.
Alice and her staff of professionals at the Riding Tuscany riding centre in Montaione, will help your child safely and comfortably approach the horses. The experience takes place in a wonderful environment, where your child can enjoy a true positive relationship with nature.
Hippotherapy promotes team work and social development; it helps overcome difficulties and traumas, and guarantees a pleasant blend between therapy and sport.
At our riding centre here in Tuscany horses and the children discover and express their emotions, fears and limits achieving a positive therapeutic relationship.
There is no need to fear horses, as these animals are able to "sense" the person who is taking care of them and they understand their strengths and weaknesses. The therapeutic experience starts as an individual encounter to then, if possible, become a group experience connected to the type of difficulty or pathology, allowing the individual to become the protagonist of their own improvement.
The feeling is more of time spent having fun outdoors with friends rather than a therapy session!

Young children, between 2 and five years old, also have the chance to experience riding on our ponies. Their first "leg up" lasts 30 minutes after which they achieve a certificate of participation.

Summery Camps where your children can learn horse riding, how to take care of a horse and lots more about the whole equestrian world. Lunch and afternoon snacks included.
Advanced riding lessons
€ 20
Horse riding activities are upon reservation only. Please contact:

info@ridingtuscany.com