Riding lessons for adults and children
Which do you prefer, formal and graceful
English riding
or free and swift
Western riding
? Whether you are a newbie or a experienced equestrian, our staff at the
Riding Tuscany
equestrian centre, on the
Belmonte Vacanze
farm holiday resort, offer a variety of tuition programs for all levels.
Starting from simple beginner lessons through to high adrenaline advanced Western or English riding lessons. From the first "leg-up" experience for small children to training for competitions.
We will assist you in any way on your dream horse-riding holiday.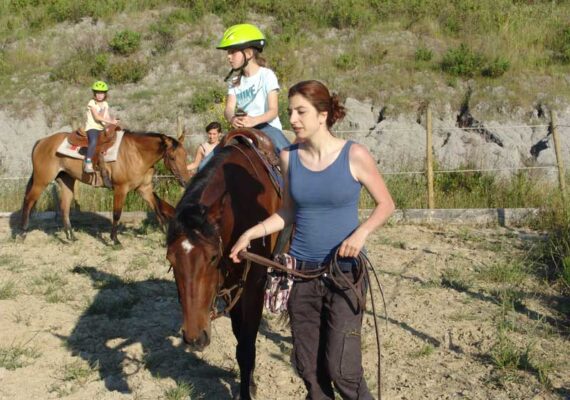 Basic English or Western riding lessons
You have always dreamt of learning how to horse ride but you have never had the time or courage to try? This is the right occasion and we are ready to help you experience the thrill of horse riding here at the
Ranch Riding Tuscany
equestrian centre in Montaione, just a few kilometres from the charming villages of
San Gimignano and Volterra
.
Our professional staff can handle lessons for children aged 6 onwards, and for adults. Each lesson lasts 60 minutes. Part of the lesson includes grooming and saddling the horse to build confidence with the animal, while part involves learning the basic riding techniques for beginners, and improving trotting and galloping for the more experienced riders.
1 hour individual lessons
€35,00 per person
1 hour group lesson
30,00 per person
Advanced English or Western riding lessons
If you are already able to trot and gallop without assistance, here at Riding Tuscany in Montaione you will be able to put your technique to the test.
Lessons last 60 minute. After saddling your horse you practice some dressage work or jumping, if you are into English riding, while if your prefer Western riding you can do some reining and barrel racing.
To gallop against a backdrop of beautiful Tuscan villages and the wooded slopes around San Gimignano and Volterra is bliss.
1 hour individual lessons
€35,00 per person
1 hour group lesson
30,00 per person
Riding lessons and other horse related activities for children.
We have loads of horse-related and nature-based activities for the little ones. Your
children
learn to be comfortable around horses
, begin developing riding skills and learn about horses and experience their first rides on our lovely ponies.
Organise your horse-riding holiday in Tuscany with us.
Belmonte Vacanze farm holiday resort in Montaione, Tuscany, has great options of short getaway breaks and long holidays, for couples and families with children.
We offer packets of lessons, season cards, and half loans.
Montaione Ranch Riding Tuscany offers
packets of lessons for adults and children
. You can buy
monthly riding-cards
,
horse riding or trekking packets
for your holidays in Tuscany.
If you are looking for livery in the heart of Tuscany, a place where your horse is well looked after when you are away, bring him to us. We offer short-term livery and training. If instead you want to have a horse but you are unable to tend to it every day, we offer monthly half loans, so you can enjoy riding your horse every time you like according to your own calendar.
Equine Assisted Therapy has still not fully developed in Italy due mainly to lack of information regarding the benefits of this type of therapeutic treatment. Equine Assisted Therapy allows people who would normally never dream of approaching horses to actually be able to have a special relationship with them.
The aim of this experimental therapy is not merely to treat certain pathologies in terms of a clinical approach in order to overcome cognitive, sensorial, motor neural damage, but rather to improve the whole range of social and psychic parameters of the patients. They are helped to better understand and relate to their everyday actions and relationships; thus improving their abilities within their daily tasks.
Assisted by the therapist the patient will start becoming aware of such physically imposing animal through simple physical contact, brushing and patting. In the saddle the relationship between horse and patient becomes closer and beneficial for both and is aimed at learning to relate to different people within the group. During the sessions, both the horse and the patient can explore and express their emotions, fears and limits, which help the favourable outcome of the therapeutic relationship.
Horses "feel" and understand the strengths and weaknesses of the person taking care of them. The movements of the horse provide the opportunity for the patient to explore, control and coordinate posture and movement. Therapy starts as an individual experience to then, if possible, become a group involvement connected to the type of difficulty or pathology, allowing the patients to become protagonists of their own improvement. Tons of fun, new friends and fantastic outdoor activities!